CLOUD NETWORK / COMPUTING IMPACT ON INTER-ORGANIZATIONAL TRUST WHICH EFFECTS PERFORMANCE OF SUPPLY CHAIN MANAGEMENT: A STUDY OF PAKISTAN'S FIRMS
Keywords:
Cloud Computing, Inter-organizational Trust, Supply Chain Performance.
Abstract
This paper analyzes Cloud Computing Impact on Inter-organizational Trust which affects the performance of Supply Chain Management of different Retail, Manufacturing, Financial, IT and Services firms in Karachi, city of Pakistan. A theoretical framework has been constructed that illuminates the role of Inter-organizational Trust in Cloud Computing (CC) and how this can reproduce the superior performance of Supply Chain (SCP) by using arguments of the Social Capital Theory (SCT). A questionnaire was run on 200 individuals having a different position like Senior Manager, Middle Manager and Officer of different Retail, Manufacturing, Financial, IT and Services firms in Karachi, state of Pakistan, and statistically analyze the hypothesis by step by step regression test. The result suggests that Cloud Computing (CC) would be controlled to support Inter-organizational Trust (IOT) to have a strong and significant influence on the association of Supply Chain. To improve complete Inter-organizational Trust (IOT) terms and conditions in organizations managers have to implement Cloud Computing base which creates radical improvement in Supply Chain Performance and the results, therefore, reinforce the across the board to explanation augured by the useful theoretical framework as Social Capital Theory (SCT).
References
Abdollahzadehgon, A., Gohary, M.M. Hussin, A.R.C. & Amini, M. (2013). The organizational critical success factors for adopting cloud computing in SMEs. Journal of Information Systems Research and Innovation, 4(1), 67-74.
Atzori, L., Lera, A. & Morabito, G. (2010). The internet of things: A Survey computer networks.Retrieved from Google Scholar. Accessed on April 25, 2018.
Autry, C. W., Grawe, S. J., Daugherty, P.J & Richey, R. G. (2010).The effects of technological turbulence and breadth on supply chain technology Acceptance and adoption. Journal of Operation Management, 28 (6), 522-536.
Barratt, M. & Oke, A. (2007). Antecedents of supply chain visibility in retail supply chains: A resource-based theory perspective. Journal of Operations Management, 29 (4), 329-342.
Benton, W. C. & Maloni, M. (2005). The influence of power driven buyer/seller relationships on supply chain satisfaction. Journal of Operations Management, 23.1-22.
Cao, Q., Schniederdans, D. G Schniederjans, M. 2017. Establishing the use of cloud computing in supply chain management. Oper Manag Res, 47-62
Chahal, R.K. & Singh, S. (2016). Fussy Rule-Based Expert system for determining Trust worthiness of cloud service providers.International Journal of Fuzzy Systems, 19 (2), 338- 354.
Chen, T., Chuang, T. T & Nakatani, K. (2016). The Perceived business benefit of cloud Computing: An explanatory study. International Information Management Association Inc, 101-121.
Chiregi, M. & Navimpour, N.F. (2016). A new method for trust and reputation evaluation in the cloud environment using the recommendation of opinion leaders' entities and removing the effect of troll entities. Computers in Human Behaviour, 60, 280-292.
Del Alamo, J.M. Trapero, R., Martin, Y.S., Yelmo, J. C & Suri N. (2015), Assessing Privacy Capabilities of Cloud Service Providers. IEEE Latin America Transaction, 13 (11), 3834- 3641.
Disterfano, S., Merlino, G & Puliafito, A. (2012). Enabling the cloud of things: Proceedings of the 6th International Conference on Innovative Mobile and Internal Services in Ubiquitous Computing. Retrieved from Google Scholar. Accessed on April, 25, 2018.
Duncan, A., Creese, S. & Goldsmith M. (2015). An overview of insider attacks in cloud computing concurrency computation, 27 (12), 2964-2981.
Geol, R G. (2015). Trusted Supply Chains: Surveying competitive value of the cloud.
International Journal of Management and Information Systems, 19 (1), 43-50
Hoberg, P., Wollersheim J & Kremar, H. (2012), The business on cloud computing-a literature review of research on cloud computing. Proceedings of the 18th American conference on information system (AMCIS) Seattle, WA August 9-11.
Kramer, S., Gore, R. & Okamoto, E. (2010). Formal definitions and complexity results for trust relations and trust domains. Retrieved may 7, 2018, from http:/www1.Spms. Ntu.edu.sgccrg/documents/trust.pdf.
Krause, D. R., Handfield, R. R. & Tyler, B.B (2007). The relationship between supplier development, commitment, social capital accumulation and performance improvement. J. Oper Manag, 25: 528-545.
Lal, P & Bharadwaj, S. S. (2016). Understanding the impact of cloud- based services adoption on organizational flexibility: An exploratory study. Journal of Enterprise Information Management 29 (4). 566-588.
Lawson, R., Tyler, B.B. & Cousins, P.D. (2008). Antecedents and consequences of social capital and buyers' performance improvement. Journal of Operation Management. 28, 124-143.
Liu, J., Rau, P.L. & Wendler, N. (2015). Trust and online information sharing in close relationships: A cross-cultural perspective. Behaviour and Information Technology, 34 (4), 363-374.
Lynn, T., van der Werff, L., Hunt, G. & Healy, P. (2016). Development of a cloud trust label: A delphi approach. Journal of Computer Information Systems.56, 185-193.
Mell, P. & Grance, T. (2011). The NIST definition of cloud computing. Gaithersburg, MD:National Institute of Standards and Technology.
Mihi– Ramirez, A., Garcia-Morales, V. J. & Arias-Arand, D. (2012). Knowledge creation and flexibility of distribution of information. Industrial Management and Data Systems, 112 (2), 166-185.
Mohammad, A. S. & Navimipour, N.J. (2016). Opinion leaders selection in the social networks based on trust relationships propagation. Retrieved from www.google.com. Accessed on 8th November, 2017.
Nunnally, J.C. (1978). Psychometric Theory, 2nd ed. New York, NY. McGraw Hill.
Nwokah, N. G. (2006). Strategic market orientation and business performance: The study of food and beverages firms in Nigeria. PhD dissertation, Rives State University, Port Harcourt. Nigeria.
Oliveira, T., Thomas, M. & Espadanal, M. (2014). Assessing the determinants of cloud computing adoption: An analysis of the manufacturing and services sectors. Information and Management, 51 (5), 497-510.
Pathan, A.S.K. & Mohammed, M. M. (2015). Building customer trust in cloud computing with an ICT-enabled global regulating body. Wireless Personal Communication, 85, 77-99.
Perez, J.M.M., Bernabe, J.B., Calero, JM.A. Clemente, FJG., Perez, G.M. & Scarmeta, AFG (2014). Taxonomy of trust relationship in authorization domains for cloud computing. The Journal of Super Computing, 70, 1075-1099.
Rahi, S. B. Bisui, S. & Misra, S. C. (2016). Identifying the moderating effect of trust on the adoption of cloud based service. Int. J. Common System, 30e3253, 1-19
Rimal, B.P. Jukan, A, Katsaras, D & Goeleven, Y. (2011). Architectures requirements for cloud computing Systems An enterprise based Cloud approach. Journal of Grid Computing, 9(1), 3-28
Rubin, A. & Babbie E. (2007). Research Methods for Social Works.(4th ed). Beimont. Wadsworth.
Schniederjani, D. G., Ozpolat, K. & Chen, Y. (2016). Humanitarian supply chain use of cloud computing. Supply Chain Management: An International Journal 21 (5), 569-588.
Selvaraj, A. & Sundarajan, S. (2017). Evidence-based trust evaluation systems for cloud service using fuzzy logic. International Journal of Fuzzy Systems, 19 (2), 329-337.
Sidhu, J. & Singh, S. (2016). Improved TOPSIS method based trust evaluation framework for determining trustworthiness of cloud service providers. Journal of Grid Computing, 1- 25.
Tang, M., Dai, X., Liv, J. & Chen, J. (2016). Towards a trust evaluation middleware for cloud service selection. Future Generation Computer Systems.
Voas, J. & Zhang, J. (2009). Cloud computing: New wine or JUST New bottle. IT Professional, 11(2), 15-17.
Wu, W.W., Lan, L.W. & Lee, Y.T. (2011). Exploring decisive factors affecting an Organizations SaaS adoption: A case study. International Journal of Information Management. 31(6) 55.
Xie, X., Liu, R., Cheng, X., Hu, X. & Ni, J. (2016). Trust-Driven and PSO-SFLA based Job scheduling algorithm on cloud. Intelligent Automation and Soft Computing, 22 (4), 1-6.
Zhang, S, Zhang, C., Chen, X. & Huo, x. (2010), cloud computing research and development Trend. In second International Conference on Future Networks (ICFN' 10), Sanya, Hainan, China, Washington, D.C USA: IEEE Computer Society, 93-97.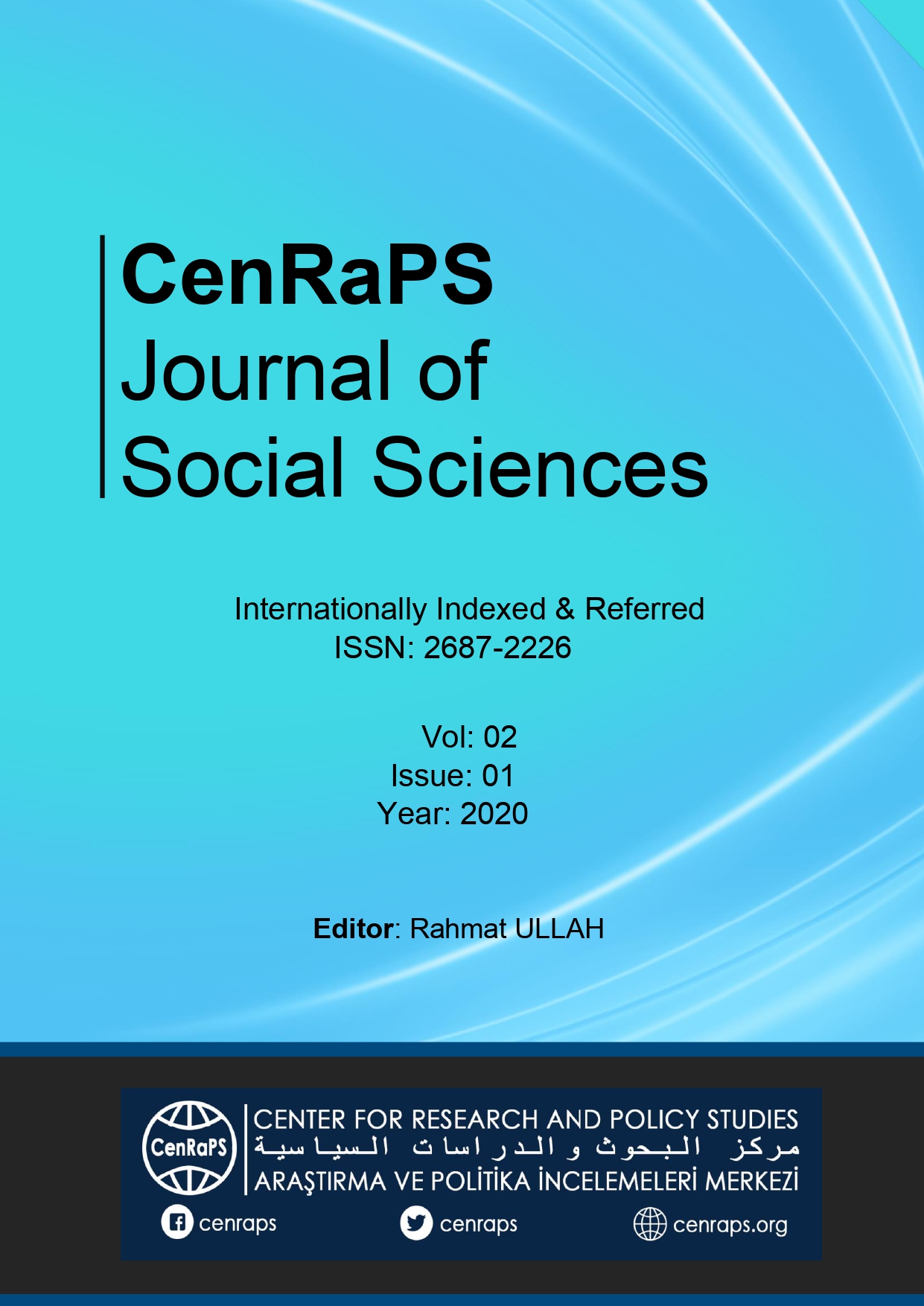 How to Cite
HAMZA ALI MANSOOR, DR. MUHAMMAD ASIM, & SALMAN MANZOOR. (2020). CLOUD NETWORK / COMPUTING IMPACT ON INTER-ORGANIZATIONAL TRUST WHICH EFFECTS PERFORMANCE OF SUPPLY CHAIN MANAGEMENT: A STUDY OF PAKISTAN'S FIRMS. CenRaPS Journal of Social Sciences, 2(1), 134-150. Retrieved from http://cenraps.org/journal/index.php/c/article/view/38