FROM JAMAL UDDIN AFGHANI TO RACHID AL-GHANNOUCHI; THE APPROACHES OF CONTEMPORARY MUSLIM INTELLECTUALS TO THE CONCEPT OF STATE
Keywords:
Islamic state, Modern Islamic Political Thought, Caliphate, Pan-Islamism, Islamism, Post-Islamism
Abstract
This research addresses the approaches of contemporary Muslim more specifically Islamist intellectuals to the concept of the state. To analyze their approaches, this paper will discuss all of the three stages of Modern Islamic political thought, namely; Pan Islamism, Islamism and, Post-Islamism. Within this three stages which are referred the time frame of developing Modern Islamic Political Thought, this paper will address the concept of state in the thought of Jamal Uddin Afghani, Muhammad Abduh, Rashid Rida, Abul Al'a Maududi, Hassan al-Banna, Sayyid Qutb, Malik Bennabi, Hassan al-Turabi, Yusuf al-Qaradawi, and Rachid al-Ghannouchi. The aim of this paper is to analyze the concept of the state of mentioned intellectuals based on two important research questions; firstly, what was the main perspective of their thought and secondly, what was their stand to accept the concept of Modern state. This research is a qualitative form of research based on primary and secondary data. Primary data will be collected from the literature of mentioned intellectuals and secondary data will be collected from the literature which is written by others on their thought. To collect both types of data, this research used books, articles, websites, and libraries. It is hoped that this research will contribute significantly to Academia by analyzing their approaches to the concept of the state.
References
Black, A. (2011). The History of Islamic Political Thought; from the prophet to the present, Edinburg University Press
El-Ghazali, A. H. M. (2011). The way to the revival of Ummah A study of the thinking of Imam al Banna, Al Falah Foundation, Cairo
Enayet, H. (1982). Modern Islamic Political Thought, THE MACMILLAN PRESS LTD, London and Basingstoke
Esposito, J. L. (Ed.) (1999). The Oxford history of Islam, Oxford University Press, Inc., New York
Etheredege, L. (Ed.) (2010). Islamic History, Britannica Educational Publishing, New York.
Hamidullah, M. (1941). The First Written Constitution, an important document of the prophet's time, accessed from; https://fliphtml5.com/ptmd/vrqj/basic (last visited, 20.01.2020)
Held, D. (1989). Political Theory and the Modern State Essays on State, power and democracy, Polity Press, UK
Hirano, J. (2008). Historical formation of Pan Islamism; Modern Islamists reformation project for Intra-Umma alliance and Intra-Magrib rapprochement, Kyoto working papers area studies no; 12 available at; https://repository.kulib.kyoto-u.ac.jp/dspace/bitstream/2433/155788/1/ssh_010.pdf (last accessed; 20.01.2020)
Al-Qaradawi, Y. (2004). State in Islam, Al Falah Foundation, Cairo
Qutb, S. (2013). Social Justice in Islam, Translated by Mohammad Ali Gerami and Seyed Hadi Khosrowshahi. Qom: Institute of Boostane-e-Ketab (Center for Islamic Propagation Office of Qom Seminary)
Ghannouchi, R. (2015). İslam Devletine Kamusal Özgürlük (Public Freedom in İslamic State), Mana Yayınları, İstanbul
Tamimi, A. S. (1997). Democracy in Islamic Political Thought, lecture at the Belfast Mosque, available at; http://ireland.iol.ie/~afifi/Articles/democracy.htm (last accessed; 20.01.2020)
Turabi, H. (1983) 'The Islamic State', In John Esposito (ed.) Voices of Resurgent Islam (pp. 241-51). Oxford: Oxford University Press.
Vanauker, M. L. (2016). The Aqaba Pledge: A Reconsideration of the Ansar's Subscription to the pledge, Master Thesis, University of Georgia.
Zoubir. Y. H. (1998). Democracy and Islam in Malek Bennabi's Thought, The American Journal of Islamic Social Sciences 15; 1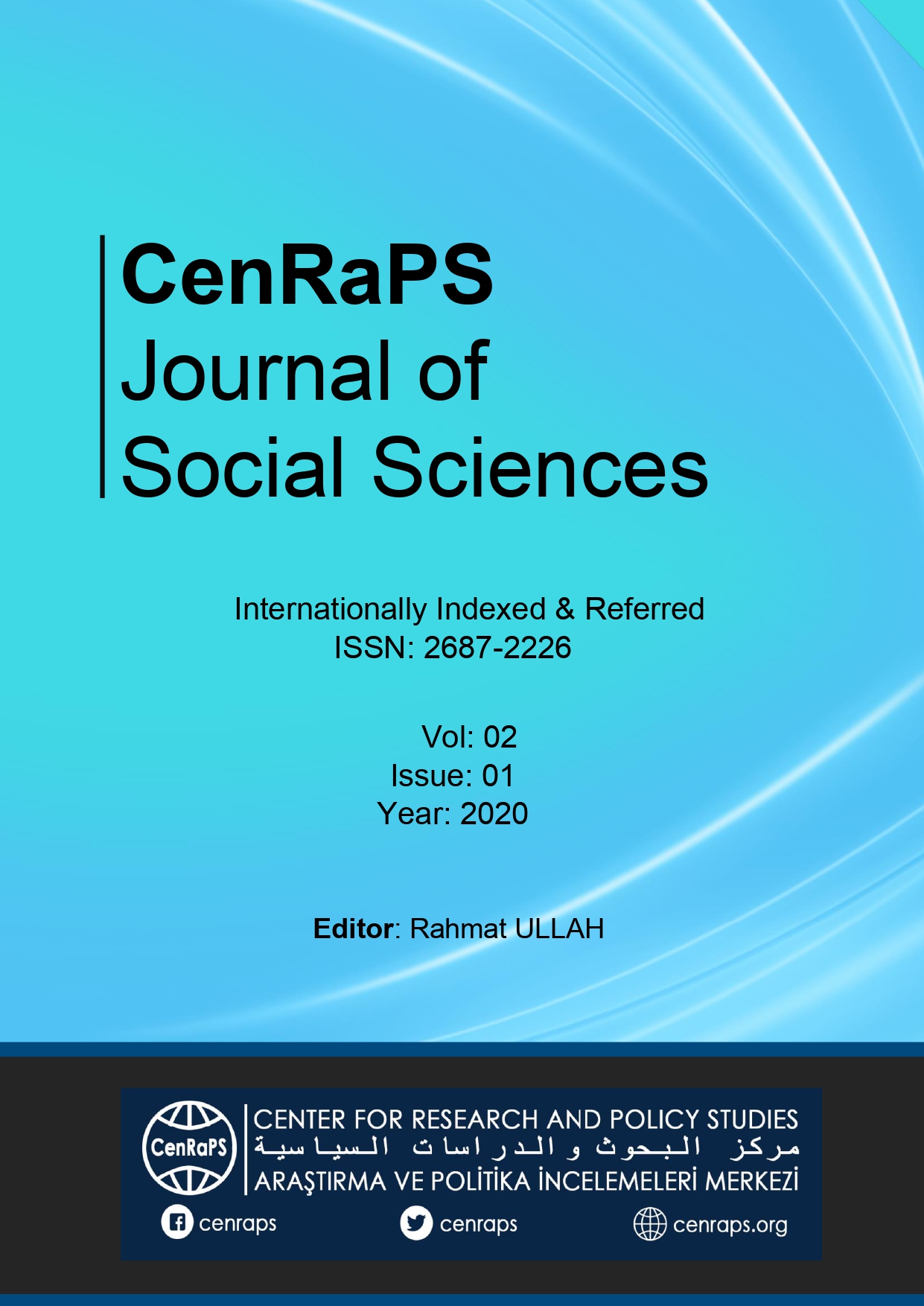 How to Cite
RAHMAN, H. (2020). FROM JAMAL UDDIN AFGHANI TO RACHID AL-GHANNOUCHI; THE APPROACHES OF CONTEMPORARY MUSLIM INTELLECTUALS TO THE CONCEPT OF STATE. CenRaPS Journal of Social Sciences, 2(1), 41-57. Retrieved from http://cenraps.org/journal/index.php/c/article/view/27